I would say we love 95% of what comes with owning an RV. The experiences and memories we're making with our family is incredible. For us, the kids are at a perfect age where they're not tied down by anything. Melanie and I are in a good place not being tied down by work or business.
While I actually enjoy driving and road trips, I have to be honest here; I don't enjoy driving with a 5th wheel behind me. I don't hate it. But there's no arguing that riding along in our car is a much easier drive. Especially when it comes to navigating congested areas or parking lots.
So, like most people, when we're pulling, we're on a mission to get to where we're going. We're not taking scenic detours, or diverting through downtown just to see the skyscrapers, or anything like that. Pretty much the only stops are to eat and fill up the truck. Usually we try to time those together, unless the kids need to stretch their legs.
Gas stations are one of those things you take for granted before you're driving an RV. You don't have as much range anxiety, but more importantly, you don't consider the layout of the pumps and the parking lot.
As soon as I picked up our 5th wheel I started noticing every little place that would be hard to get in and out of. For the most part, it's fine, because we can just ignore going in hard places, but you can't ignore filling up 🙂
Size Matters
If you're pulling or driving a 30′ or smaller rig, odds are you'll be ok in most gas stations. It definitely can and will be tight at some, but you'll probably be ok. Just take it slow and keep your eyes peeled.
However, if you're above 30′, it gets progressively harder. We're towing a 41′ 5th wheel, so I quite literally can't fill up at just any gas station. This also means sticking to interstates and major routes that are going to be more common semi routes, because they're going to have facilities to accommodate big rigs.
Price May Not Matter As Much
When I'm driving around in our Hybrid Honda Accord, I can be as picky as I want on where we fill up. But, when I'm on the road with the 5er, I have to go where I can. So, if it's $0.10 less across the street, but I can't fit in there easily, I'm going to spend the extra $3 to fill my truck up without stress.
Truck stops and other stations right on the highway tend to charge more money, but I just do what I have to do to get in and out and keep on my journey. Unless you truly feel like sacrificing convenience for maybe $2-$5 here and there, I pass the same advice on to you.
Start Looking Early – 1/2 Tank Type Early
In the car, I'm running that thing down to the wire because I know I can pop in anywhere, and I know the tank's going to last me what it says it's going to last me in terms of range.
Our truck has a 34 gallon fuel tank. On a recent trip from our home in Missouri, down to Beverly Beach Camptown in Flagler Beach, FL. I averaged 10.4mpg. So, we can assume while towing, on average, I will get roughly 10mpg. A tank should last me roughly 340 miles.
On that route, I could run the tank down pretty close because Is stayed on the highways and the major trucking routes and there were stations all over the place.
When we went out west, however, it was a different story. We would go what seemed like forever; maybe 30 minutes, between gas stations. Out west, we also were getting about 7mpg because we were headed into the mountains and had a 25mph wind to deal with. We have a diesel truck, the mileage would have been even worse in a gas truck.
There was one point when we were cruising along, getting about 12mpg, had 1/2 tank left, and felt good. Our mileage was actually high here because we had been pulling in super flat, easy land. Then things changed. The wind picked up, the mpg dropped significantly, and all of a sudden, what I thought was going to last me around 200 miles was actually closer to 100 miles of range, but I didn't notice it immediately, because the good mpg from before was skewing the data.
All in all, we made it to a gas station just fine, but there were some nervous moments while we were looking for a place.
Plan Ahead – Use Flying J
Now, I look diligently at my routes before I leave. There are a lot of resources that can help make this easier for you, but I will explain my approach.
I will use whatever gas station I have to, especially a truck stop, because having a diesel truck, I can just pull into the big rig section. Obviously that's not an option for those with gas vehicles.
So, I try to use Flying J or Pilot stations as much as possible. Many Flying J and Pilot stations have RV specific lanes. They also usually have RV specific parking, without having to go into the truck lot.
In the dedicated RV lanes, they also have long handled windshield squeegees, propane fill up, sewer dump stations, and fresh water fill up.
Flying J also has a really good app, called MyPilot, that helps you plan ahead on your routes.
You can grab the app below:
You start by entering in your route. You can either let it use your current location, or set your starting point.
But, before proceeding, I like to set a few filters first. Under the Trip Plan section of the app, click on the Filters button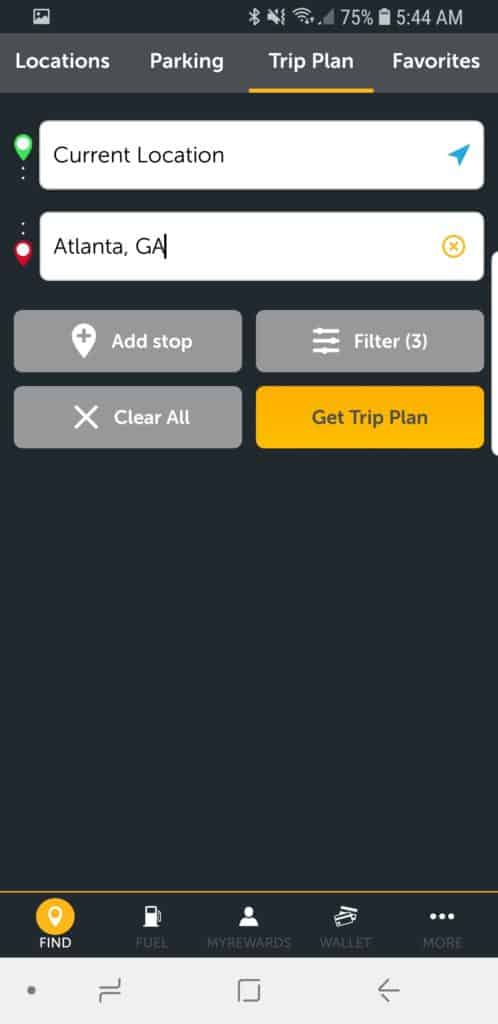 Here are my suggested filters, but you can set whichever ones sound good to you, too.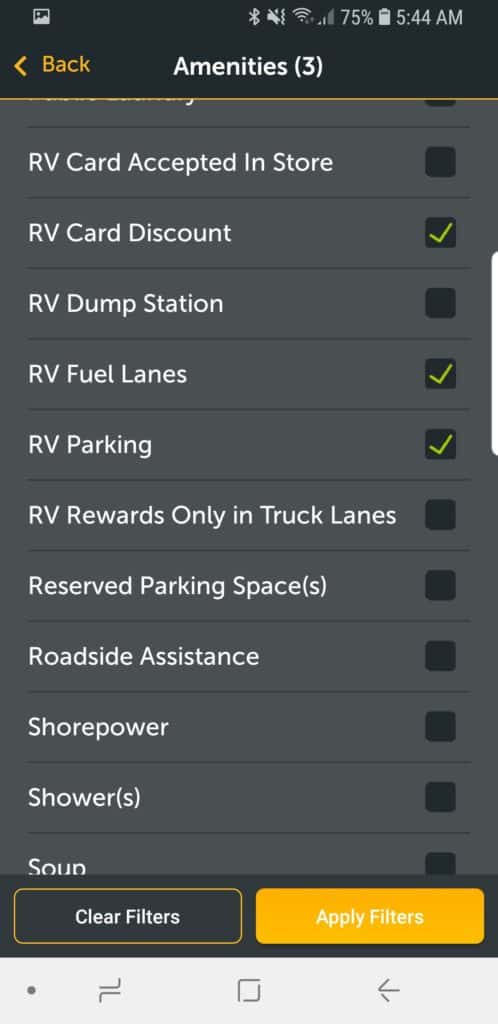 Once I apply the filters and click "Get Trip Plan" a map with the route and stations along the way will pop up.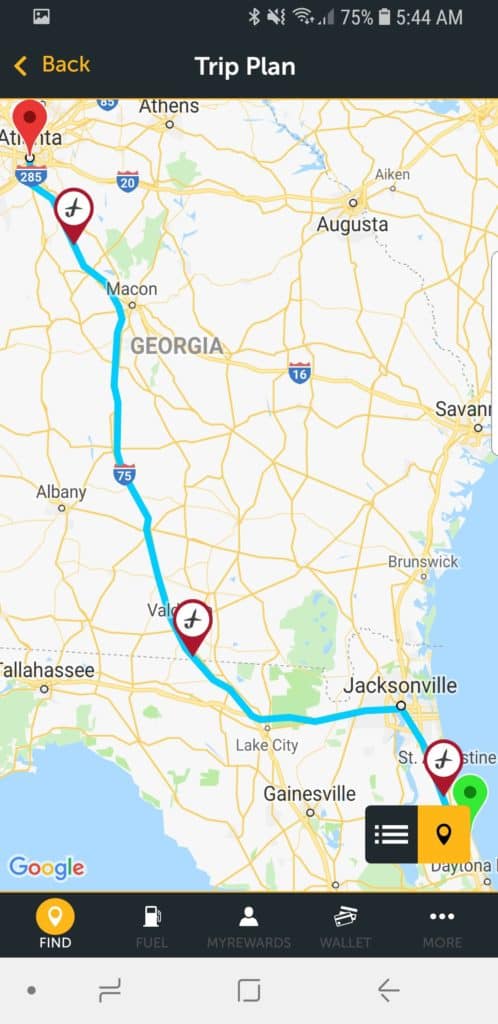 You can click on a station to get some quick details. Looking at this first one, it's only 173.6 miles away from me, so I won't need to fill up yet, but the next one is 368.4 miles away, so I know I can't make it that far.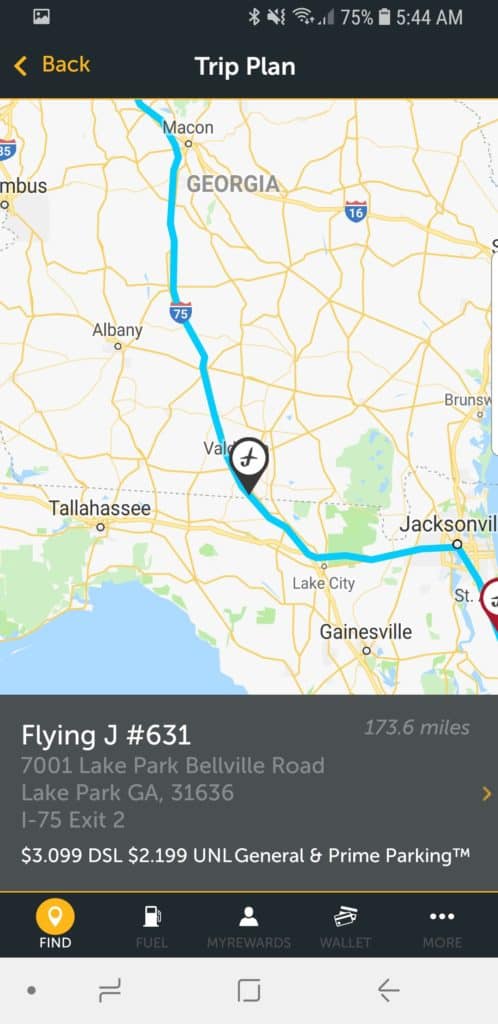 So, I either will fill up early, or knowing this is a major route and having the option to just jump into the truck side to fill diesel, I could just push through and fill up at any truck stop we see. Personally, it's going to depend on the family and if they happen to need a leg stretch at the first one.
You can also click on the gas station info again, to pop up more detailed information such as current prices, full list of amenities offered, as well as which restaurants are offered in that location.
Another great benefit of Pilot/Flying J, is their deal with Good Sam. They will give Good Sam members a charge card (not a credit card) that can be used at their locations. The card is good for at least $0.05, but up to $0.08 off the cash price each gallon of gas or diesel fuel. 
Sign up for the charge card here.
On a recent 2 day drive, down to Florida, this saved me a little over $6. Not much, but when I'm suggesting to ignore price and go for convenience, this little shave helps feel better about it.
How to Gas Up In An RV
Now that we've talked about the general rules of thumb, concepts, and planning, let's get into the actual act of filling up at a non RV dedicated lane or truck stop.
Angle of Pumps
The angle of the pumps is very important.
Perpendicular Pumps
What I've seen is most gas stations in town will have pumps angled perpendicular to their stores. So, when you're filling up, the nose of your vehicle is going to be pointed directly at their store.
This is a very hard layout to navigate because it automatically limits your turning space. You're going to need to make a sharp turn to get in and to get out, but you're limited by the store, as well as probably parked cars in front of the store. If you can get an outside lane, this is a little easier because you usually can find some room to swing out wide.
In my area, Love's and Casey's almost all tend to have perpendicular pumps, so I avoid them while towing.
Angled pumps
Angled pump lanes can be a much better situation. They can definitely be as bad as the perpendicular pumps, but they have a better chance of being good, in my opinion.
Again, shoot for an outside lane here, unless you can see a clear route in and out from the other lanes.
Parallel Pumps
These will be your best bet because you can usually enter from one side and leave from the other without any sharp turns. If I'm not at a truck stop or somewhere with a dedicated RV lane, I look for parallel pumps.
Final Thoughts
Filling up in an RV can be a stressful situation, but isn't always that way. By planning ahead and being prepared, I think we've only had one stressful situation in the actual filling up process. The ironic part here is that it was at a Flying J with an RV lane!
I filled up just fine, then pulled over to the RV parking lane so I could run in and use the restroom. When I came back out and began to leave, I realized the RV exit was being blocked by a group of probably 50 motorcycles. I figured it would take forever to round them up and get them to clear a path, so I decided to exit out the car exit.
I was so focused on clearing the tight 90 degree turn to exit that I missed a low boy trailer that was sticking out a couple feet into the exit lane on my driver side. When I cut to make the 90 degree turn to the right, the butt of my 5er swung to the driver side and just barely caught the corner of the little trailer. It did absolutely no damage to the trailer, but here's the damage on my end.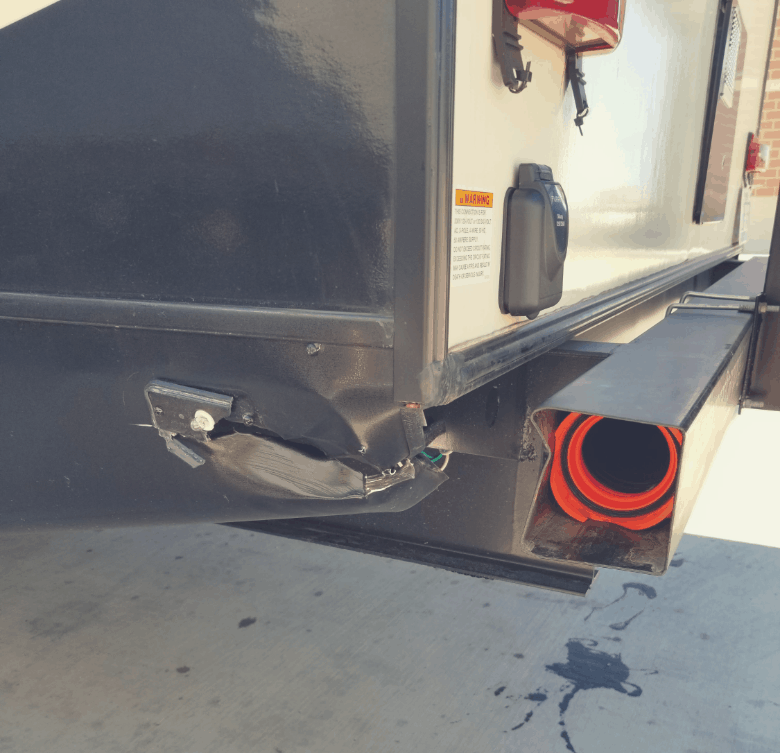 Honestly, not that big of a deal. The light still worked just fine and it's just one piece of sheet metal held on by a few screws. Plus the bumper had a pinch in it. But still, it was a frustrating experience.
Ultimately, having a plan can help you get 50% of the way there, but you'll have to be able to adjust on the fly. And either spend a few extra minutes rounding people up to move, if they're in your way! 🙂