When we pulled out of Beverly Beach Camptown, the original plan was for Theo and I to do one night at the Deland/St. John's River KOA, while we dropped Melanie and Olive off at the airport. Then, we would start our drive home the next morning.
However, plans changed.
Currently, back home is getting hit by some bad weather and is actually supposed to be getting snow as I write this. So, we discussed a few options, including me and Theo just sticking around down south for a few days while the weather cleared back home. But, I was able to convince Mel to stay down here, too. Really had to twist her arm to get her to stay in the 80 degree weather for longer.
With our last minute changes, our pickings were slim on where to stay. Luckily, the Deland KOA had us covered for a 2nd night, while we figured things out.
Location
The location of this park is interesting to me. In a lot of ways, it's an incredible location, but in some ways, the location was pretty bad, too. Here's what I mean…
Great Location – It's kind of in the middle of nowhere, surrounded by swampland, on the St. John's River. To us, that was super cool. Our spot felt like it truly backed up to swampland.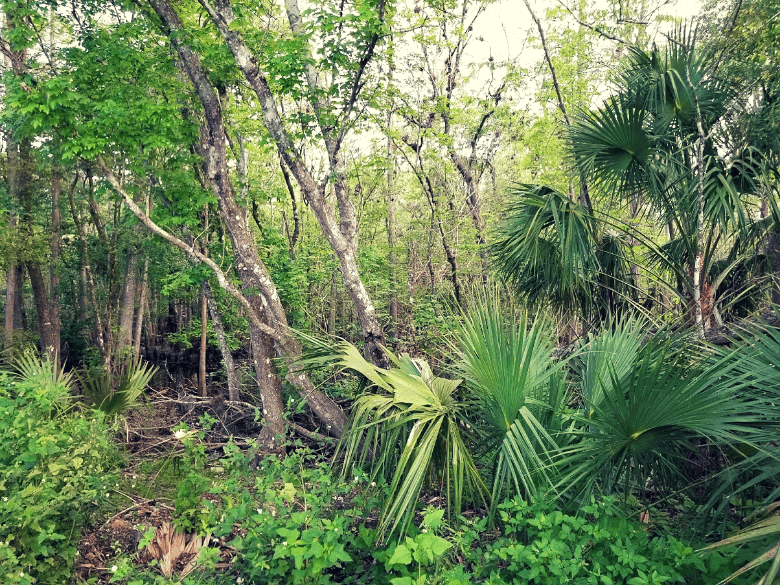 But at the same time, the park is built around a super popular marina and boat ramp, so there was still a lot going on, but not in a bad way. You could watch the boats and jet skis coming and going, and see turtles, fish, and birds, all over the place.
You're also close enough to Orlando, that you can go down there for a day trip, but escape back to seclusion at night, if you want. To me, that's a cool bonus.
Even being in the middle of nowhere, getting here was really easy, too. Coming from the east, it was easy driving pretty much the whole way. We did have to swing through Deland for a few minutes, which was a traffic jam when we hit it, but it wasn't awful.
Bad Location – The location was bad in a sense that, it's just a few minutes away from a really rough seeming area. I'll admit, I'm judging a book by its cover, but the area of Deland closest to the RV Park (which is still several miles down the road) seemed like an area you don't want to hang around in. Bars on windows, people stumbling around type place.
I hate to judge, and I'm sure 99% of the people we saw are great. But, crime is 48% higher in Deland than the national average. Knowing this, and having my family with me, it just had me a little extra on edge. Not enough that I suggest not going. Just be aware of your surroundings.
Campsites
The campsites here are interesting. If we consider good and bad to be on a sliding scale with stops in between, the campsites here are definitely on the Good side of the scale. In fact, KOAs typically seem to put a lot of spots into very little space, and the Deland KOA did a better job there.
I say interesting because the spots are oddly sized. Here's what I mean. We're in a Premium Spot (I typically don't book Premium unless we're going to be staying there for a longer period, or it's a pull through). It's Premium because it backs up to the woods, which is cool, for sure.
However, we don't have much room. We definitely couldn't fit our 5th Wheel and our truck in the spot together. We could put the 5er a few feet further back, but then our slides would have hit the hook-up pedestal, which was super close to the parking spot.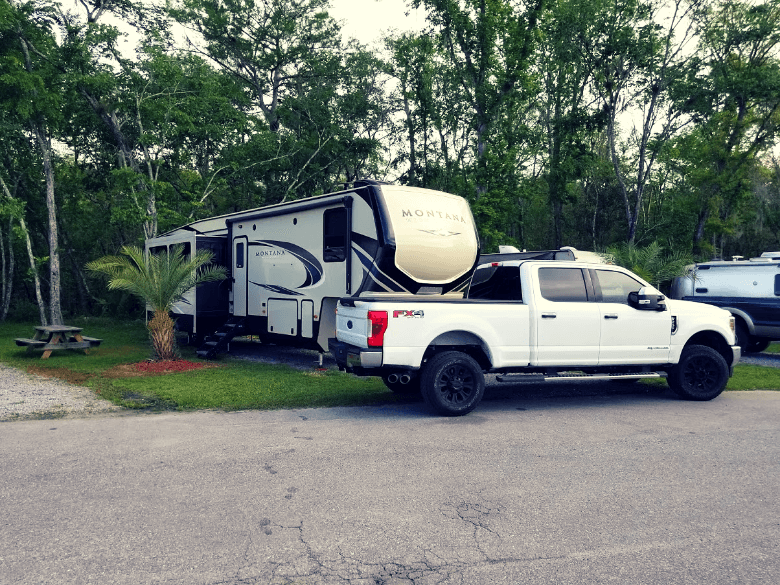 Another odd feature is including a thorny palm tree literally right where we walk off our steps. Again, if we were back a few more feet, this wouldn't be quite so in the way, but we're not, and it is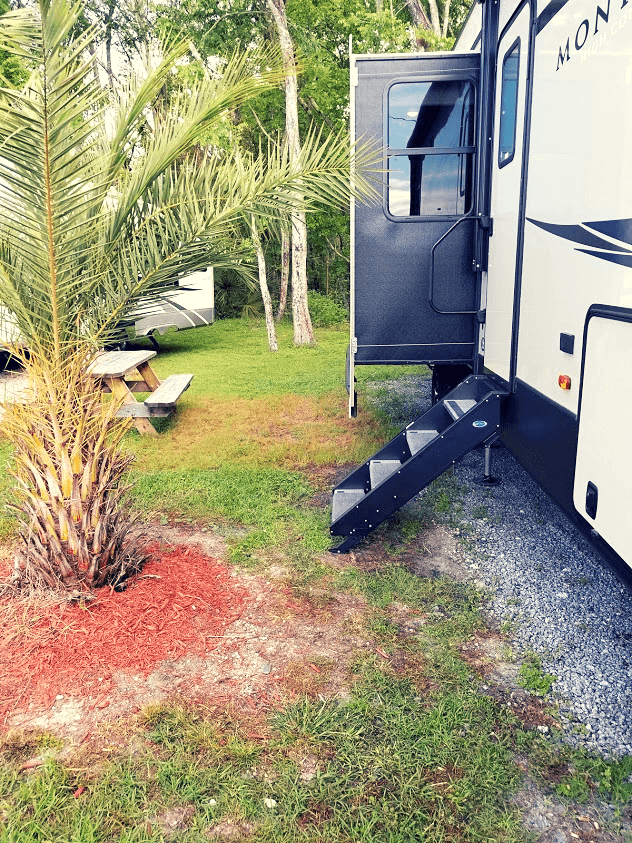 That sucker is just waiting to poke someone!
Back to the oddly sized spots I was talking about. Most sites are actually super long, and pretty wide. This isn't the case for all of them, so these are probably something between standard and premium that these are considered.
From a customer standpoint, I think this is cool. It's nice to have a little breathing room between you and your neighbors.
From a business standpoint, I think they could have fit more spots in here, and they are pretty much at full capacity, so I'm surprised they didn't adjust. Maybe it would have made the spots too small to squeeze a few more in, so they went with nice comfy sizes instead? I don't know.
This is definitely a plus, but just something that had my gears turning and I was thinking about the business side of the park.
It looked like every spot had a picnic table and a fire pit, so I always like that. We enjoy hanging out at the picnic tables with Theo, or doing S'Mores at the fire, but more and more, we see places that don't allow open fires. There's just something about a real, wood fire, that takes me back to childhood and good memories.
The hook ups were fine. I did mention the pedestals seem a little too close to the parking spot, but wasn't awful. Especially if we didn't have slides right there. The water pressure was pretty weak, however. It was high enough to still get by, but it was pretty slow flowing.
Amenities
The Amenities here, unfortunately, are nothing special. At a KOA, we expect it to be a little more family friendly, but there is no pool or playground for the kids. They did have a playground, but it was broken down. So, presumably they had a playground at one time, and may have a playground again.
For us, being a quick stopover, that wasn't a big deal. But, if we were planning to stay here for an extended time, I would be disappointed. Part of booking KOAs, for me, is you know what to expect, and it's going to be a good place for the kids.
We were very close to the bathhouse and laundromat, however. Unfortunately, there is only one bath house for this side of the park, and for some people it would be a pretty big trek.
I actually couldn't get the Wi-Fi to work at all. If I were going to be here for an extended stay and didn't have a Jetpack, this would be super frustrating.
People
We didn't spend enough time here to really get to know people, but the staff we interacted with were all very friendly. In fact, we only booked one night originally, but ended up booking a second night. I booked the second night first thing in the morning, before they opened up, so I did it on the KOA app (part of the reason I love KOA). On the app, our Premium site wasn't available, so I just took whatever they had, which was a standard site. When I called them after open to see which spot we would be moving in to, she actually just allowed us to stay in our current Premium spot. I offered to pay the difference, but she told us it was fine.
Cell Covereage
Our AT&T coverage for our cell phones was pretty terrible here. I consistently 1-2 bars, and even had no coverage at all in some spots.
Getting into geeky mode… if I look at the dBm of my phone, I was consistently at -110. To put it in perspective, signals are usually in the -60dBm to -112dBm range, and anything greater than -85dBm (so, -60 to -85) is considered usable. Lower than -85dBm may result in unusable signal.
You can see, we're at the absolute bottom of the range here.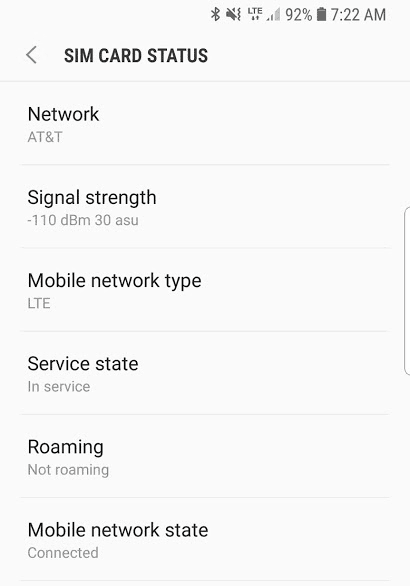 Our Verizon JetPack also didn't have great coverage, either. We were also at a -111dBm. Fortunately, it was good enough to get the job done, however. We were able to work, stream, and play sufficiently.
Things To Do
Being this close to Orlando, there is an absolute plethora of things that could fall into the list of things to do near Deland/St. John's River KOA. So, we're going to exclude Orlando for the sake of this list.
Food
There isn't a ton of food super nearby, but within 10-15 minutes your options open up quite a bit. However, there are a few good options here.
We ate at a local place that is here at the Marina, called St. John's River Grille. It was pretty good. They seemed to have live music quite a bit, which can be a plus or minus; it was loud when they started rocking, but it was entertaining and it kept the kids happy, therefore, it kept us happy, too! 🙂
They also have a really cool rooftop section with great views of the river and the surrounding forest/swamplands.
Play
Being on the river, there are several river related things you can do.
We took a boat tour from Blue Heron River Tours and absolutely loved it! Having traveled to Florida a lot, and lived here for a few years, we've done several of these eco/boat tours. We always love them, but particularly enjoyed this one.
The captain was great and super knowledgeable. But, the best part is always the wildlife. We saw quite a few gators, tons of turtles, sand hill cranes, blue herons, ospreys, limpkins, and much more. They offer guests of the KOA rides for $15/person.
Final Thoughts
Overall, we liked this park. It's a cool setting with a lot of nature surrounding it, as opposed to a lot of KOAs just being right on the highway. We met some neighbors that were going to be here for extended periods, but for us, we wouldn't stay here for more than a stopover, simply because we want a little more amenities for the kids entertainment.
Plus with the poor cell coverage, I could have a hard time working, or bribing Theo with Netflix 😉
However, for a couple that are traveling without kids and aren't as reliant on being connected, this is a great place to spend some time. Especially if you enjoy water activities. You can rent fish, canoe/kayak, rent a boat, or bring your own boat/jet skis.