Have you been trying to figure out which is the best RV tire pressure monitoring system? If so, we've got you covered.
Tire safety is one of the most important aspects of RVing. How many stories have you heard about people being on the side of the road dealing with a blowout? Most long time RVers will actually say "it's not IF you get a blowout, but WHEN."
The right Tire Pressure Monitoring System, which is sometimes shortened down to TPMS, can help you get peace of mind knowing you can react quickly to tire issues and potentially prevent a disaster.
Let's be up front; an RV TPMS isn't cheap. But, when you look at the investment over the lifetime of the RV or tires, it's a huge cost saver. If your tire blows out, that's expensive. Best case scenario, you have to replace the tire. Worst case, it causes an accident with a lot of damage. Getting the right Tire Pressure Monitoring System is an essential part of your RVing investment and should be one of the first purchases you make.
Lets avoid this situation.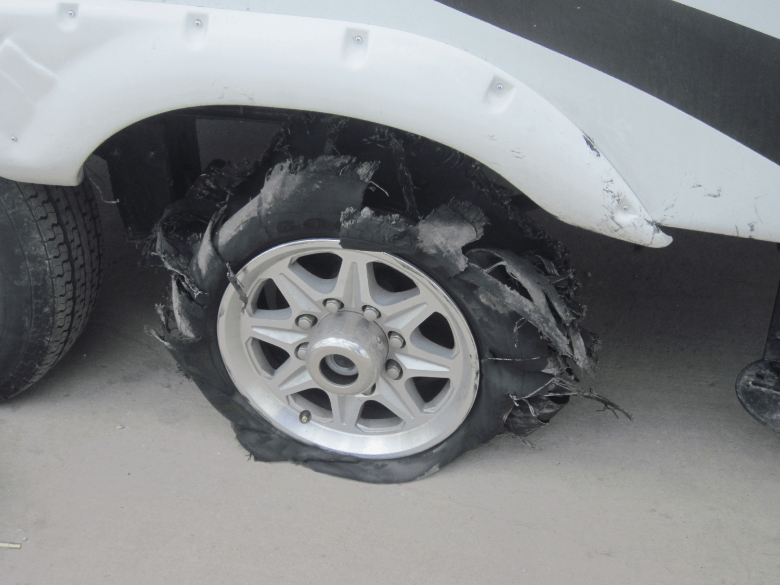 We also can't let a good tire pressure monitoring system replace regularly inspecting your tires. But, driving down the road and being able to see changes in pressure and temperature are key in catching something before it goes significantly wrong.
Down below, we'll get into what to look for in an RV Tire Pressure Monitoring System, but for now, let's jump into the reviews.

Best RV Tire Pressure Monitoring System Reviews

1. EEZTire TMPS – Tire Pressure Monitoring System
EEZTire-TPMS4 Real Time/24x7 Tire Pressure Monitoring System - 4 Anti-Theft Sensors, incl. 3-Year Warranty
REAL TIME/24X7 SAFETY & HIGH FUEL ECONOMY - EezTire TPMS system by EEZ RV Products is the industry leader in the RV TPMS market since 2005. It accurately monitors tire pressure and temperature for up to 26 tires and handle tire pressure up to 210 psi. EezTire TPMS system gives you PEACE OF MIND 24 x 7 when you are on the road or off the road. Maintaining proper tire pressure at all times ensures vehicle safety and helps achieve desired fuel economy.
ADVANCED TECHNOLOGY ALERT SYSTEM - the monitor is motion sensitive and monitors tire pressure and temperature on 6-second intervals continuously. It sends visual and audio warning alarms immediately when tire pressure or temperature falls outside the preset safety parameters. The monitor goes into power saving mode if no motion is detected in 15 minutes to save battery. The sensors send status signals to the monitor on 6-second intervals continuously as long as the sensors are under pressure
EASY OPERATION & MAINTENANCE - EezTire TPMS monitor has one of the largest display screen on the market 4 ½" x 3". It takes minutes to setup and program. Pre-programming available by seller (please contact us for details). The monitor has a built-in rechargeable internal lithium battery that lasts up to 60 hours on a charge. Sensors have replaceable batteries. It comes with a common USB charging cord that can be connected to vehicle's cigarette lighter or USB port.
The EEZTire TPMS is by and large considered the top pick when it comes to RV and trailer tire pressure monitoring systems. EEZTire is one of the most well known and highest respected brands in the industry. This TPMS monitors in real time, so you see instant updates across your tires, and if a situation occurs, you can jump on it immediately. If the pressure or the temperature get outside of your defined parameters, an alarm will sound, alerting you to the situation.
Screen size is an excellent benefit of the EEZTire TPMS. With a 3.5" screen, it's easy to see and keep an eye on your tires. It's one of the largest TPMS screens available. I noticed with the screen being large and clear enough, some of my more curious passengers keep an eye on the monitor as well.
Another benefit is the expandability. This can actually monitor up to 26 tires! That's plenty enough to monitor a tow vehicle with a trailer (or two), or a motorhome with a toad (whether flat tow or on a dolly), and still have room to go. So, this is a monitor that can grow with you. Maybe you only need to monitor a single axe trailer right now, but if you ever get a double or triple axle, you don't need a whole new system, you just need to pick up a few more sensors.
The sensors themselves have technology that keeps turns itself off after 15 minutes of not detecting motion. However, when they detect motion again, they turn back on. So, you don't have to worry about having the sensors drain their battery from being always on, or have to turn them on and off when you stop and start. You set them and don't bother with them again.
The other thing I liked about it was the battery. It can last 60 hours on a single charge, and it charges pretty rapidly. So that I don't have cables hanging all over in front of me, I just charge it up before I'll be towing and then it runs off battery while I'm driving.
While you do need to read the manual to set things up properly, you can have them ready to go within a matter of minutes.
One last benefit to point out is EEZTire's 3 year warranty. They have a strong warranty and offer great customer support. So, if you have any questions, you can get in touch and get them addressed.
2. TireMinder Smart TPMS
TireMinder is another big name in the RV TPMS industry. They also put out a solid product and are well respected, and have won several awards from RV Magazines and publications.
I was extremely close to pulling the trigger on this being my tire pressure monitoring system of choice, but ultimately, the reliability of the EEZTire mentioned above just couldn't be ignored. This is still an awesome system, though.
The biggest reason this one made second on my list and what almost edged it out for me when I was doing my own shopping, is the smartphone compatibility. I'm a tech nerd. I grew up with technology, I built businesses based around technology, and I'm a huge proponent of using technology to enhance our life. Being able to connect this with your smartphone is really cool. However, when it comes to tire safety, I'm pretty strict and I ultimately chose to not be an early adopter for the technology.
The setup and adjustment of this system is really user friendly. Since it's based in an app on your phone, it's literally clicking the screens, changing the numbers, and it's super intuitive. The EEZTire TPMS is super easy to program, but the TireMinder Smart TPMS takes the cake for being the easiest.
This TPMS can monitor up to 22 tires and a psi range from 0-232. It also comes with a signal booster, which is a great feature to have for longer rigs, to ensure a strong connection without interruption. Downside to a booster is having to connect it to a battery source. Again, just a few minute installation, but still another step.
While the TireMinder Smart TPMS has very strong reviews (currently at a 4.0), it just wasn't enough to edge out the 4.2 of the EEZTire TPMS.
All in, this is another great product, that tech friendly RVers will most likely love. I don't think you will be disappointed with this system.
3. Bellacorp Tire Pressure Monitoring System
Bellacorp Tire Pressure Monitoring System TPMS (4) Sensors for Fifth Wheel, Car, Truck, SUV, Van, 4x4, Tractor Truck, RV, Camper or Trailer
Sensors are pre-programmed for 2 axles and 4 tires on a Fifth Wheel or Trailer. Turn on Monitor and Screw in Sensors. This kit is perfect for a Fifth Wheel, Camper, Travel Trailer, Car, Small Truck, SUV, 4x4, or Delivery Van. Follow the instruction manual to re-position sensors or add more in a different configuration.
Real Time/Full Time Tire Pressure and Tire Temperature up to 34 tires. High and Low Pressure alarms from 15psi to 175psi and high Temperature to 186 degrees. Commercial grade system useful for small trailers all the way up to 18 wheelers.
Anti Corrosion Secure fitting sensor caps will not leak air. Industry leading sensor range. Waterproof to 3 feet. Sensors have replaceable batteries, #1632.
This is a very good system from a lesser known company in the TPMS industry. This is still a very good system, just happens to come from a lesser known company that hasn't built the reputation the other brands have yet.
The system is actually set up very similarly to the EEZTire TPMS mentioned above, so it's quite easy to install and get your settings calibrated. But one key difference, is that it can actually monitor up to 34 tires, making it the most expandable TPMS on our list of TPMS reviews.
It can monitor from 15psi up to 175psi and can check temperature up to 186 fahrenheit, so it's more than adequate range of both pressure and temperature to fit our needs.
When I say it's set up similarly to the EEZTire, it even even has the same size screen, which you know from above, I loved. The large screen makes it easy to keep an eye on, without being overly daunting. It can sit down in the lower left corner of my windshield, dash and be there when I need to look at it.
The Bellacorp TPMS has really strong reviews overall, at a 4.0, but again, just not enough to edge it out for us. I do think Bellacorp is the name to watch in this space over the future, so I'm excited to see what innovations and strides they continue to make.
4. TST 507 Tire Pressure Monitoring System
TST is another well known and trusted brand in this space. They were actually acquired by one of the leading companies in the tire inflation industry a couple years back. So, they have a strong history, as well as a reputable company standing behind the product.
This TPMS is a great choice for you and has many happy customers. It has a digital color display screen that is large and easy to read. It claims to be able to monitor up to 110 tires. I have no idea why you would need to monitor that many, but the capability is impressive in it's own right!
This TPMS can monitor up to 218psi and temperature of 158. The temp is actually lower than others on this list, but still sufficient for our needs.
I like that this system automatically comes with a booster. Some of the others here don't. There's a chance you don't need the booster, but if you get a system and do need it, it's just another expense and wait time to get it ordered.
The big reason this one is a bit lower on the list is just lack of much information about them. While TST is well known in the space and respected, they seem to struggle with their marketing message and truly getting the full details and features out there.
This would be a fine unit to use, but it just can't make it to our top recommendation when there are so many others with such great feedback available.
5. B-Qtech Tire Pressure Monitoring System – Wireless TPMS
Sale
B-Qtech Tire Pressure Monitoring System Wireless TPMS with 6 Sensors for RV Trailer Truck
Wireless TPMS monitor the tempreature and pressure with high degree accuracy, display for 6 tires at the same time
Tire monitoring system has big LCD display screen, the system comes with a monitor that can handle up to 215 psi, no need to adjust to balance when the tire moving
Tire pressure monitor could receive the far away singal. Long range between sensors and monitor(the distance of vehicle exceeds 32 ft, we suggest to purchase repeater seperately)
This is a really good system, but the major flaw is the company behind it. Before we get too far, let's discuss manufacturers. Pretty much all manufacturing is done overseas, typically in China. This isn't news. I don't know for certain, but odds are every TPMS on this page is manufactured in China. The difference I've seen here is: the other companies are American companies that manufacture in China. B-Qtech appears to be a foreign company that also manufactures.
I'm all for open competition and whatever gets the consumer the best product at the best price. The problem I keep seeing pop up with B-Qtech is when it comes to the communication. There is a major communication gap on their instructions and in their communications with customers.
Now, with that out of the way, let's talk about the actual TPMS.
It's a great product. Once you get it set up, it works really well. Also, not everyone complains of the instructions being hard to understand, so I believe the user has a lot to do with this. It has a large antenna which is great for ensuring a strong signal detection without interference.
It also has a large LCD screen. The LCD screen differs from the other systems because the others simply a dim backlit screen, while this one is a little more vibrant. It works up to 212 degrees, and up to 215psi. Again, that's enough of a range to keep tabs on our needs.
A downside, is that it only monitors 6 tires at once. This may be enough for you, but for a lot of people, it may not be. Having the ability to monitor more tires is essential for many people. If my truck didn't have a built in TPMS already, I wouldn't be able to use this system because I would need to monitor 8 tires.
All in, this is a pretty good system, especially if it fits your needs and your budget better. Just be prepared that the instructions and the support could be a little below what other brands in our TPMS reviews list offer.
RV TPMS Buyer's Guide
If you're checking out RV Tire Pressure Monitor reviews, you may have some questions about RV TPMS's in general. No worries, because we've got you covered 🙂
With this being not just a large financial decision, but such an important safety decision, I didn't take it lightly. I researched, read as much as I could, talked to as many people as I could, looked online, in store, etc, until I felt like I knew everything there was to know about the subject. Then based off that info, I went with the EEZTire TPMS we discussed up above.
But, For those of you that want to learn what to look for, here's some important info to consider.
What is an RV Tire Pressure Monitoring System?
An RV TPMS is a system to designed to monitor the pressure (and usually temperature) of your tires for your RV and the the tow vehicle, if applicable. There are both internal and external systems. If you've bought a new car in the past decade, it had an internal system, but for RVs (and for regular vehicles from 2006 or before), the easiest way to get the sensors are via external application.
You connect the external sensors to your valve stems and they provide a constant reading of your tire pressure, as well as transmit this data to a display of some sort, whether it be a standalone monitor, or your smartphone.
Why is a TPMS Important?
If you're old enough, you may remember during the late 1990's when there was an issue with Firestone tires having blowouts, causing rollovers, and being linked to over 100 deaths. This tragic situation led the government to enacting a law that made all car manufacturers begin using TPMS in their vehicles starting in 2007.
Tire safety is one of the most important aspects of all vehicle safety, but especially of RV safety. Many experiences RVers will tell you it's not IF you're going to have a blowout, but WHEN. Blowouts, aside from being expensive, and frustrating, can be extremely dangerous. A 15,000 pound trailer cruising down the highway at 70 MPH and then blowing a tire, can quickly turn into a disaster.
Most (non RV) drivers don't even consider their tire pressure. In fact, a study found that 42% of driver's can't identify the low air pressure symbol on their vehicles equipped with factory TPMS, and around the same number of people admitted to never bothering to check their tire pressure.
Aside from the fear factor, having improperly inflated tires will cause them to wear faster and can also hurt your vehicle efficiency. So, just from a financial perspective, these systems can help for themselves by being able to monitor and maintain optimal settings.
Ease of Installation
Most RV TPMS are very easy and quick to install, but this is still an important factor. There is no need to make this task overly burdensome when there are so many easy to install systems available.
If for some reason a system is so complex that it recommends a professional install, it's most likely far more complex than you need. This is truly a simple process and should not be hard.
You also may need to adjust or switch the sensors around from time to time, so ease of use and installation is going to come back as an important feature, again and again.
Reliability and Accuracy
Obviously, none of this matters if the system doesn't work, or if you can't trust the accuracy of the numbers. That's why it's important to use a reputable brand. Even then, I suggest checking it against your own tire gauge to see if there is a margin of error.
You will also need to think about the length of your unit. Some sensors and receivers are stronger than others and can stretch longer units, but for big rigs, it can often take a booster/repeater to get the signal all the way up to the monitor.
Monitor Readability
This is why I'm such a big fan of systems with larger screens. Being able to see the data quickly and easily is important. Being able to understand which icon on your monitor corresponds to which tire, without using a lot of thought, is key to being able to monitor quickly while you're driving.
Final Thoughts
There's a lot to absorb here, but I wanted to make sure you have as much information at your disposal to make an informed decision. This is a great summary of the days upon days of research and investigating I did and my continued attention to the topic as well.
With so much to chew through, absorb, and think about, please leave any questions or comments below and we'll get you
Last update on 2021-02-04 / Affiliate links / Images from Amazon Product Advertising API