Keystone Montana High Country 365BH
This is a 41ft fifth wheel with finishings that feel well above the price. This is our second fifth wheel and will most likely be our adventuremobile for the next 5 or so years, at least.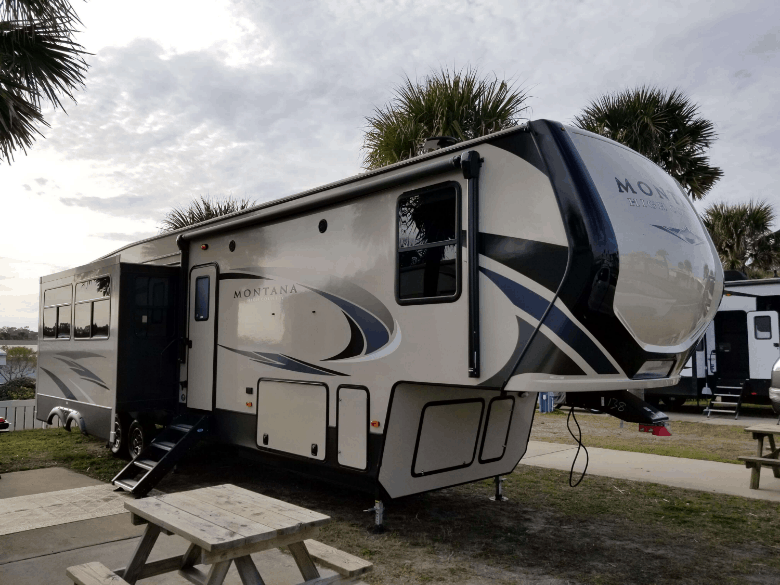 When we decided to get an RV, we knew from the start we wanted a trailer, as opposed to a motorhome. The main reason is bang for the buck; you can't beat a trailer for this, in my opinion.

Once we decided trailer, we were torn between a bumper pull and a 5th wheel. After doing more research, we decided 5th wheel would be what we needed. We wanted something that's easier to pull/maneuver, but had enough space to fit our family of 4 for extended periods. When we're getting into the 30+ foot range, I just didn't feel comfortable with pulling a bumper pull.

We looked at quite a few 5ers and did a lot of research, but this one jumped out at us as checking the most boxes.
Floorplan – We wanted a bunk house. Having two kids, we really wanted to have a place for them to crash.
Luxurious – The finishings in this model look and feel well above it's price range. High Country is considered the best bang for the buck trim level for the Montana series. You get most of the same finish level and bells and whistles, but they're much lower priced and lighter weight.
Size – We really liked the size. It's 41ft, but still under 13,000lbs. With our F250, we may not have as much wiggle room as I like, but we definitely have the capacity for it. Our previous 5th wheel weighed right at 10,000lbs fully loaded down, so the truck pulled it around like it wasn't even back there.
Auto Leveling System – There was something fun to leveling everything myself. Having to check the level side to side, put it up on some blocks, drop the jacks, check the level again, etc. But the novelty of that wore off for me. I think it was standing in the cold holding the jack button for what seemed like 10 minutes at a time to get the fifth wheel off the hitch, get it dropped back down to level, and so on. The auto leveling system amazed me. Press a couple buttons and it does all the work.
Now, that's not to say we wouldn't change things about this 5er. We can always find something to change. But, out of the literally hundreds of floorplans and models we looked at, this was the absolute best one for our situation and our family.

2018 Ford F250 – 6.7L Diesel
Our Tow Vehicle is a 2018 Ford F250 XLT, with a 6.7L Diesel engine.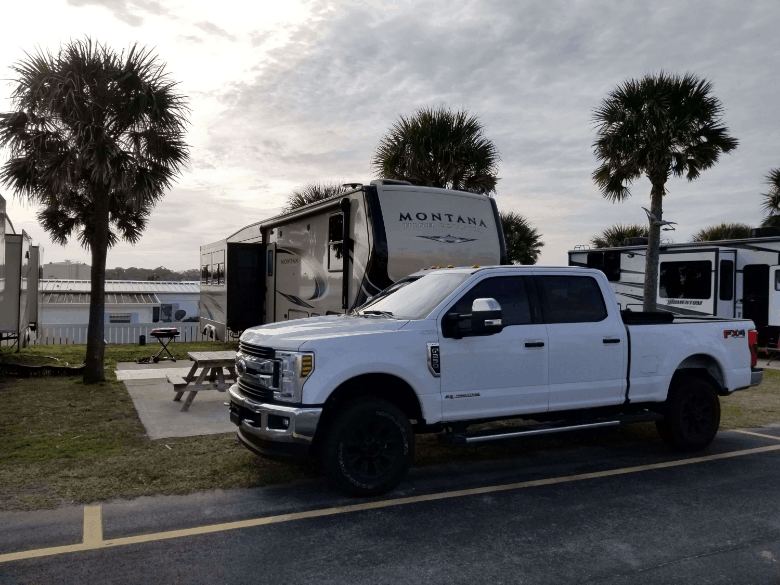 The truck debate was a similar one as mentioned above… did we want a 1/2 ton or 3/4 ton? Did we want Ford, Chevy, or Dodge? Gas or Diesel?
We chose this F250 for several reasons.
Melanie and I like Fords. We had an F150 before this, and we really loved it. They have extremely spacious cabs. So spacious, that we actually had traded a mid sized SUV for the F150, so we can have a better traveling vehicle (this was back in the hotel days, not the RV days), once we tossed on a tonneau cover.
Even though an F150 would have pulled our first 5th wheel, we decided on and F250 in case we wanted to step up. That thought came true, so I'm glad we did. If we could do it over again, I probably would have gotten an F350, single rear wheel. But the F250 is still plenty of truck.
We went with diesel because we ultimately decided that if we were getting a truck for pulling, lets make sure it's set up for pulling. Gas trucks could have handled it just fine, but you can't deny the 900+ft/lb of torque the 6.7L Diesel engine has. Plus we knew we wanted to pull in the mountains, and gasoline loses efficiency significantly at altitude.
All in, we love our setup. We considered everything under the sun, from Class A to Super Cs, but just kept coming back to 5th Wheels with a bunk as our best bet for having young kids.
We'd love to know more about your set up! Let us know what you use, in the comments below!